RETREAT: Going back to nature with CanTeen Ireland
How can the sounds you hear in the natural environment inspire stories? This was the starting point for RETREAT, our latest project with CanTeen Ireland, the national young people's cancer support group, which began in summer 2019.
Over the six years (and counting!) Helium Arts has been collaborating with young people from CanTeen, projects have evolved from a film-based approach to encompassing multiple art forms. Since 2017, communal music-making and performing have been embraced by CanTeen members, mentored by composer and musician Seán Carpio.
For RETREAT, participants were invited to listen to their natural surroundings, immersing themselves in the sound environment around them and responding by creating their own scores and film works, supported by Seán and filmmaker Alan Brennan. Unlike in previous projects, participants would not have instruments at their disposable: they would create the soundtracks solely using their own voices and found materials.
'I just love working with Seán and how he just kind of makes whatever noise we need out of objects that are sitting right beside us … You can really make a sound out of anything.' – Ashleigh, participant
The project was inspired by a 'listening walk' in Monaghan the previous year, in which Seán encouraged CanTeen members to get in touch with listening to nature.  The late composer and improviser Pauline Oliveros devised a body of work that could be performed by people with no musical training, based on 'ways of listening and responding'. Bringing a little of her Deep Listening spirit with us, we aimed to slow things down, becoming more aware of stimuli around us and responding in the moment.
Listening past the rain: Music and Film Camp
Ten young people and seven CanTeen leaders embarked on a weekend camp in August 2019 at The Emmaus Centre, North Dublin, a peaceful retreat of tree-lined paths, parklands and a river walk.
Seán attuned us to listening by playing us an audio track of 'A Day in the Life', sounds he recorded as he went about Dublin city. We closed our eyes and heard monkeys (they turned out to be swans) and found our mood changing as dense sounds (rain, engines and traffic rumbles) gave way to more soothing sounds in nature and the indoors.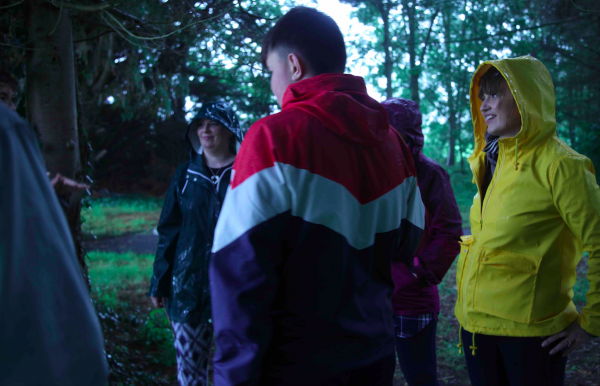 We divided into three groups to harvest sounds in the outdoors: listening and noting down the sounds we heard as visuals (symbols or drawings) in our notebooks. Listening became challenging when it started to rain heavily but rain sounds different when it falls on a leaf than when it falls on someone's glasses and during discussions the young people brought up how it can affect your mood (for example, rain on your glasses can lead to feelings of agitation but it can be comforting to hear rain when your indoors). The rain in various forms would play a big part in the young people's soundtracks and films.
'I was pretty nervous, but as I got more comfortable, as we were doing more activities, as I started speaking with new people, it was just so enjoyable and it was just so interesting for me.' – Daniel, first-time participant
Sound symbols become story worlds
Back indoors, each group drew their sound symbols on the whiteboard and we tried to guess what sounds they represented. Armed with art materials, participants chose one of the sound drawings or a theme based on the drawings to develop into art pieces: a visual representation of the film story they wanted to create.
An umbrella with rain drops on the inside was inspired by a character from To Kill a Mockingbird: 'Boo Radley is the outsider, they think he's a weirdo and all … but he's saved two people's lives so they realise he's actually a good person. But at the start they thought he was very weird and unusual.' – Bronagh and Saul, After Boo
A bat fashioned from crepe paper developed into a light-hearted caper: 'We didn't know where we were going, then all of a sudden, out from all those random ideas came Billy the Bat. It was really fun seeing it develop as a character and then trying to create this film, a day in the life of Billy the Bat, and seeing it come together.' Ashleigh, Billy the Bat
A colourful nature collage was inspired by the weather and how it can impact on our wellbeing. This group wanted their film to morph from black and white to colour to reflect this.
'We focused on a person who was having a bad day at the start. They were walking through the forest, it was rainy, it was sad, which kind of linked into his mental health, he was upset. And he came in, he got dried up, he got comforted by his friends, he dried up his glasses which were fogged up, which was kind of like he can see clearly now. It was a nice day, he went outside, he met his friends and that completely changed his outlook on the day.' – Daniel, TechnoColour
What does happiness sound like?
The stories ignited all sorts of interesting challenges in terms of creating music scores: What does joy sound like? (Ideas included whistling, birds chirping, chatter, people being around.) And loneliness? (Torrential rain, a door closing behind you, sounds that are monotonous, slower, walking in muck). Thinking about what things sound like would help to direct what the films would look like.
Participants created their scores using symbols and drawings once again and performed the sounds collectively mixing song and vocal utterances with foley effects (any objects or materials close to hand became a source of experimentation to find the right effect). Ashleigh describes how this worked for Billy the Bat: 'Straight away it's a bat, so you do need that kind of flying sound effect, you know him flying around. We also have a scene where it's him with a bunch of other bats, so we had to try re-create that noise bats make, which is that really high-pitched squeak. We had five of us around the mic all doing the highest noise we could do.'
What does happiness look like?
Filmmaker Alan Brennan mentored the young people in translating their stories and soundscapes into short films. A significant challenge was creating film work without dialogue driving the stories and making sure the scores and visuals complemented each other.
Daniel, a new CanTeen member, is really interested in photography and video and was excited to see how the 'high tech cameras' worked: 'I think it was really interesting how we made the sounds and the visual effects; such as fogging up my glasses or adding raindrops to my jacket, just to show the weather, that it has taken effect on me.'
For Lisa, a participant who has been taking part in the project since 2014, the opportunity to direct and operate the camera is her favourite thing to do: 'Every year we do this, I always make an effort of thanking Alan for giving me that vote of confidence, I can do this. And there's no am I doing this right? Yes, you will do things wrong but he says, it's not a problem, we can just do a re-take.'
Aoife, a CanTeen Leader who took part in our very first collaboration with CanTeen when she was a member, remarked on how beneficial teamwork was for the group (and we really needed it to create 3 film pieces and 3 soundtracks in one weekend!): 'It was good to see that the teenagers were doing that this weekend, using their initiative, you can see them growing as a group, as a team, and it was brilliant to see.'
The three short films created by participants tackled themes from bullying to loneliness to having fun with your bat buddies. As Lisa puts it, 'you want to achieve the best for your movie but you also want to have fun at the same time.'
P.S. Life in TechniColour: 2020 concert and screening event
This spring the CanTeen crew are coming back together to rehearse for our upcoming concert and screening, Life in Technicolour. The event will include a showcase of the films we made on the RETREAT project and a short documentary going behind the scenes. Life in Technicolour is coming to The Sugar Club in Dublin on Saturday 7 March. Find out more and book your free ticket here: https://www.eventbrite.com/e/life-in-technicolour-concert-screening-tickets-91703631029
Acknowledgements
RETREAT is produced by Helium Arts in partnership with CanTeen Ireland. The project is funded by the Arts Council, Dublin City Council Arts Office and CanTeen Ireland.
We gratefully acknowledge the support of Evelyn Griffith and the volunteer leaders at CanTeen Ireland.For more information about CanTeen's wonderful visit www.canteen.ie